Eggless Whole wheat strawberry Cupcake drizzled with chocolate sauce, Sounds delicious isn't it?
It is a tradition in Indian houses that daughter-in-law makes a sweet to start their way into the kitchen. I was in immense pressure as everything was new around me and I knew that my mother-in-law is a wonderful cook. We had also invited few of our family friends and relatives for dinner who could not attend the wedding for some reason and the only responsibility I was given was to make a good dessert. I was very hesitant to ask any help around and thought of making a cupcake to impress everyone. I saw Hershey's chocolate sauce and strawberry box in the refrigerator and decided to try this wheat cupcake. It turned out to be a runaway hit with all the relatives loving it and praising it for the whole time they were there post dinner 🙂
Like Eggless Whole Wheat Strawberry Cupcake for the picture and love it for the taste..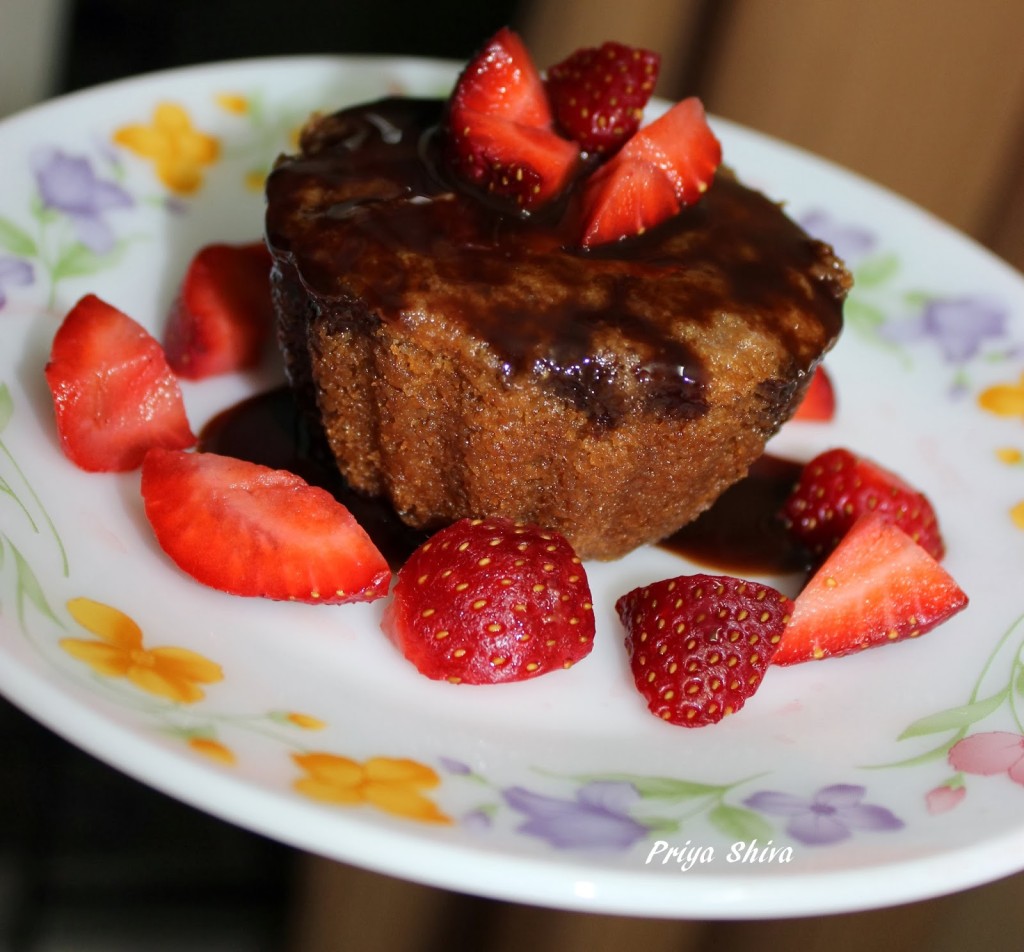 Eggless Whole Wheat Strawberry Cupcake
Author:
Prep time:
Cook time:
Total time:
Serving – 12-14 cupcakes
Ingredients
Whole wheat flour – 1 & 1/2 cups
Sugar – 1 cup
Unsalted butter – 1/3 cup
Milk powder – 3/4 cup
Milk – 1 cup
Vanilla Essence – 1 tsp
Fresh Strawberry – 1 cup (hulled and chopped)
Salt – 1/4 tsp
Baking Powder – 1 & 1/2 tsp
Baking Soda – 1 tsp
Instructions
Preheat oven at 180 C degree.
Wash, hull and chop strawberries and make a purée by pulsing it in food processor until smooth.
Sift wheat flour and keep it aside.
Add sugar, butter in a bowl and mix it well until sugar completely dissolves. Add milk and blend it well.
Now add wheat flour, milk powder slowly to the mix and blend it well. Make sure there are no lumps in the batter. Add baking powder, baking soda, vanilla essence, salt and mix it well.
Now add strawberry pulp and blend it well.
Grease the cupcake cups with some oil evenly and add the batter to it. Make sure to fill each cup till 1/2 cup. You can also use cupcake liners.
Bake at same temperature for 20 minutes. Check after 20 minutes by inserting a toothpick at the center of the cake. If it comes out clean, then your cake is done or else continue baking for 5 more minutes and keep a watch on it.
Once it has cooled down, remove from the cup and enjoy!!
I served with loads of Hershey chocolate sauce and some fresh strawberries..
Yum