I always wanted to make pizzas at home and if I had tried this earlier, I would have never bought pizza from any shop :)This time I made pizzas using ready-to-use pizza bases but soon I'm going to try making pizza base at home..If you're not making pizza at home you're definitely missing something..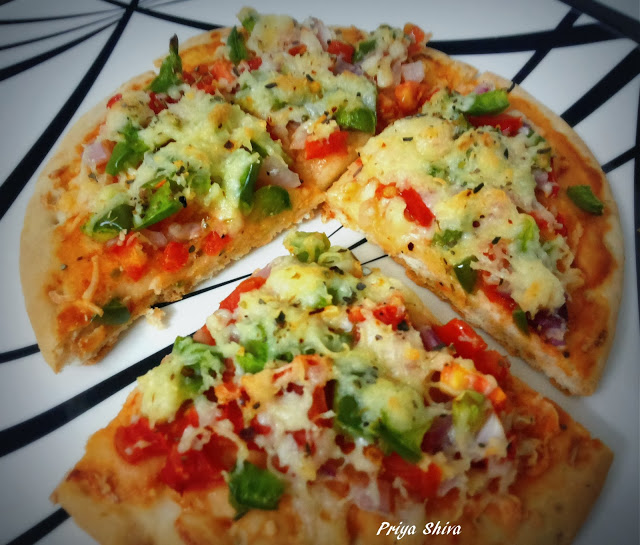 Ingredients:
Pizza base: 2
Tomato sauce/Pizza sauce – as required
1 Capsicum finely chopped
1 Tomato finely chopped
1 Onion finely chopped
1 carrot – grated
Chilly Flakes – 1/2 tsp
Oregano Garlic Seasoning – 1/2 tsp
Black pepper powder – 1/2 tsp
Grated Mozzarella cheese/Pizza cheese
Method:
1) Spread tomato sauce/pizza sauce on top of the base evenly.
2) Add chopped capsicum, tomatoes, onion, grated carrot, sweet corn.
3) Now add grated mozzarella cheese evenly and sprinkle some chilly flakes, pepper powder and oregano seasoning.
4) Preheat oven at 180 C.
5) Place the base on a baking tray and bake at same temperature for 15 minutes or till crust turns light golden brown.
Use a pizza cutter to cut the pizza and enjoy it hot!
Tips: You can add seasoning of your choice. You can also sweet corn.
Yum