Thiruvadirai (Arudhra Darsinam) is a festival for Lord Shiva and falls on the day of Thiruvadirai star in Marghazhi Masam (Tamil month). Thiruvathirai Kali is prepared especially for this occasion.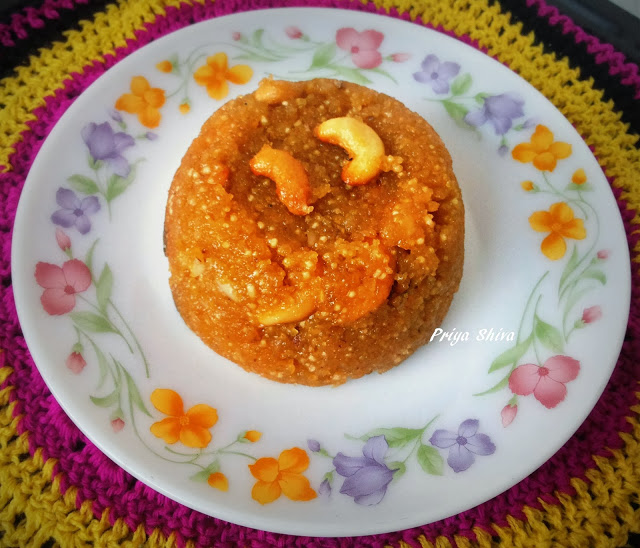 Ingredients:
Raw rice – 1 cup
Jaggery – 1 & 1/2 cup
Grated coconut -1/2 cup
Ghee/Clarified butter – 2 tbsp
Cardamom Powder – 1/4 tsp
Few Cashews and Raisins
Method:
1) Wash rice and spread it on a towel. When rice has dried up, roast it in a pan till it turns light golden brown.
2) Dry grind the rice coarsely and keep it aside.
3) Melt jaggery in little water and filter it to remove impurities.
4) Roast cashew and raisins in ghee and keep it aside.
5) Add 2 cups of water in a pan and bring it to boil. Add the coarsely powdered rice and stir well to avoid lumps.
6) Lower the flame and let it cook for 5 minutes. Keep stirring in between.
7) Now add jaggery syrup and mix it well.
8) Add ghee, roasted nuts, grated coconut and mix well and cook for 2 more minutes.
9) Switch off the gas stove and add cardamom powder and mix well and serve.
Yum