Its always a tug of war to feed my little one but if I offer him tomato ketchup with anything he is ready to eat..So, this time I decided to make tomato ketchup at home with mom's recipe. This is a recipe I took from my mom who always used to make make tomato ketchup at home and we all used to relish on it..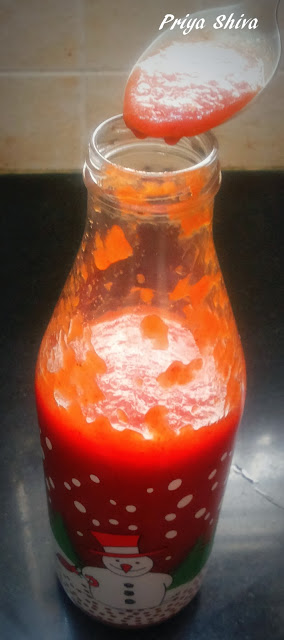 Ingredients:
Ripe red tomatoes – 2 kg
Onions – 3 medium sized
Garlic – 2-3 cloves
Black cardamom – 2
Cloves – 2
Bay leaf – 2
Cinnamon stick – 1 inch long
Cumin seeds – 1/4 tsp
Garam Masala – 1/2 tsp
Red chilly powder – 1 tsp
Black Pepper Powder – 1/4 tsp
Sugar – 3/4 cup
Salt to taste
White Vinegar – 2 tbsp
Citric Acid – 1/4 tsp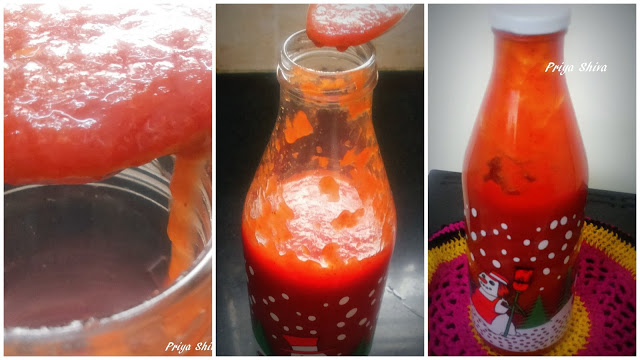 Method:
1) Wash and chop tomatoes into half and pressure cook with chopped onions, garlic, bay leaf, cloves, black cardamom, cinnamon sticks, cumin seeds with half a cup of water. Cook it on low flame till 2 whistles.
2) Once it cools down, mash and strain it to remove the skin and seeds.
3) Pour the tomato pulp in a thick bottom vessel and cook it on low flame. Keep stirring it continuously.
4) When it starts getting thicker add sugar, salt, red chilly powder, black pepper powder, garam masala and mix it well and cook it for 2-3 more minutes.
5) Now add citric acid and vinegar and give a quick stir and remove from the gas stove.
Once it cools down, transfer the content into a glass bottle and keep it in a cool place.
Tip: Taste the sauce and adjust the taste according to your preference. You can make it more spicy or sweeter according to your taste preferences.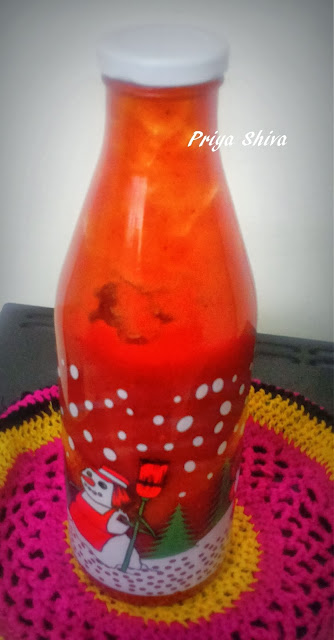 Yum