I love baking!! You all must be surprised as I have not posted even a single cake recipe on my blog 🙂 🙂 Somehow it always skipped with busy schedules and running around my little boy. Eggless dates cake is my first cake on the blog. This is an eggless cake with the goodness of dates and walnuts and my family's personal favorite. The cake gets over within minutes but this time I made the cake when husband was in office and my boy was enjoying his afternoon nap so that I can take some pictures to share with you all. The cake is soft even when its eggless and delicious.
So, sharing the recipe for Eggless dates cake and hope you all enjoy baking it.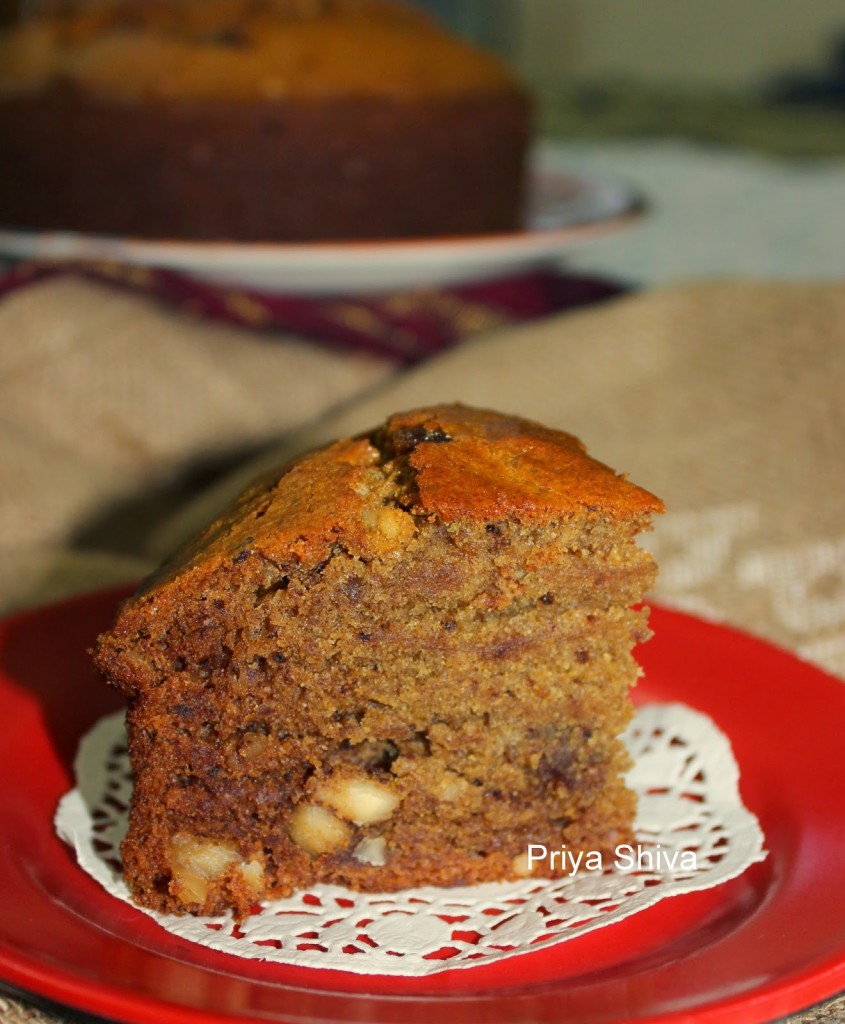 Eggless Dates Cake
Author:
Prep time:
Cook time:
Total time:
Ingredients
Maida/All purpose Flour – 1 cup
Seedless Dates – 18
Milk – 3/4 cup
Granulated Sugar – 3/4 cup
Olive Oil – 1/2 cup
Baking Soda – 1 tsp
Chopped walnuts – 1/4 cup
Vanilla Essence – 1 tsp
Instructions
Soak dates in warm milk and keep it aside for 30-45 minutes.
Sift all purpose flour and baking soda together 3 times and keep it aside.
Grind the dates to a fine paste along with sugar.
Add the dates paste and oil and blend it well.
Now add all purpose flour, vanilla essence and blend everything together.
Add the chopped walnuts and give a quick stir.
Preheat oven at 180 C/360 F.
Grease the pan with enough oil or use parchment paper and then add the cake batter. Tap the pan once after filling it with batter. I have used 6X2 inch cake pan (square or round shape) and fill only half way.
Bake the cake at 180 C for 35 minutes. Check after 30 minutes by inserting a toothpick at the center of the cake. If it comes out clean, then your cake is done or else continue baking for 5 more minutes and keep a watch on it.
Once the cake has cooled down, invert it on a wire rack and let it cool down completely.
You can enjoy this cake with a hot cup of coffee and even children love it.
Yum