These are mouth-watering boondi ladoos filled with mother's love..Boondi ladoo or kunja ladoos is a popular sweet all across India and my mom makes the best :-).. I always wait eagerly for my mother's visit specially for the goodies made by her. Anything with mom's love and affection can't match anything in this world.. This time mom made ladoos in my kitchen and it was amazing to watch her in full action. The aroma itself was amazing. Boondis are made with besan or better known a gram flour. they are deep fried in ghee and then sugar coated. These ladoos are usually made for festivals like Ganesh Chaturthi, Navratri, Diwali etc. So, sharing step-wise recipe with you all to enjoy making this sweet at home.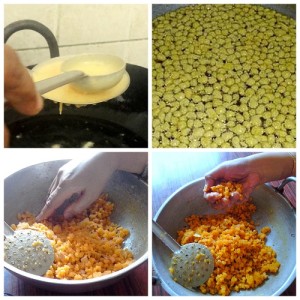 I hope you enjoy making these boondi ladoos as much as I enjoyed them..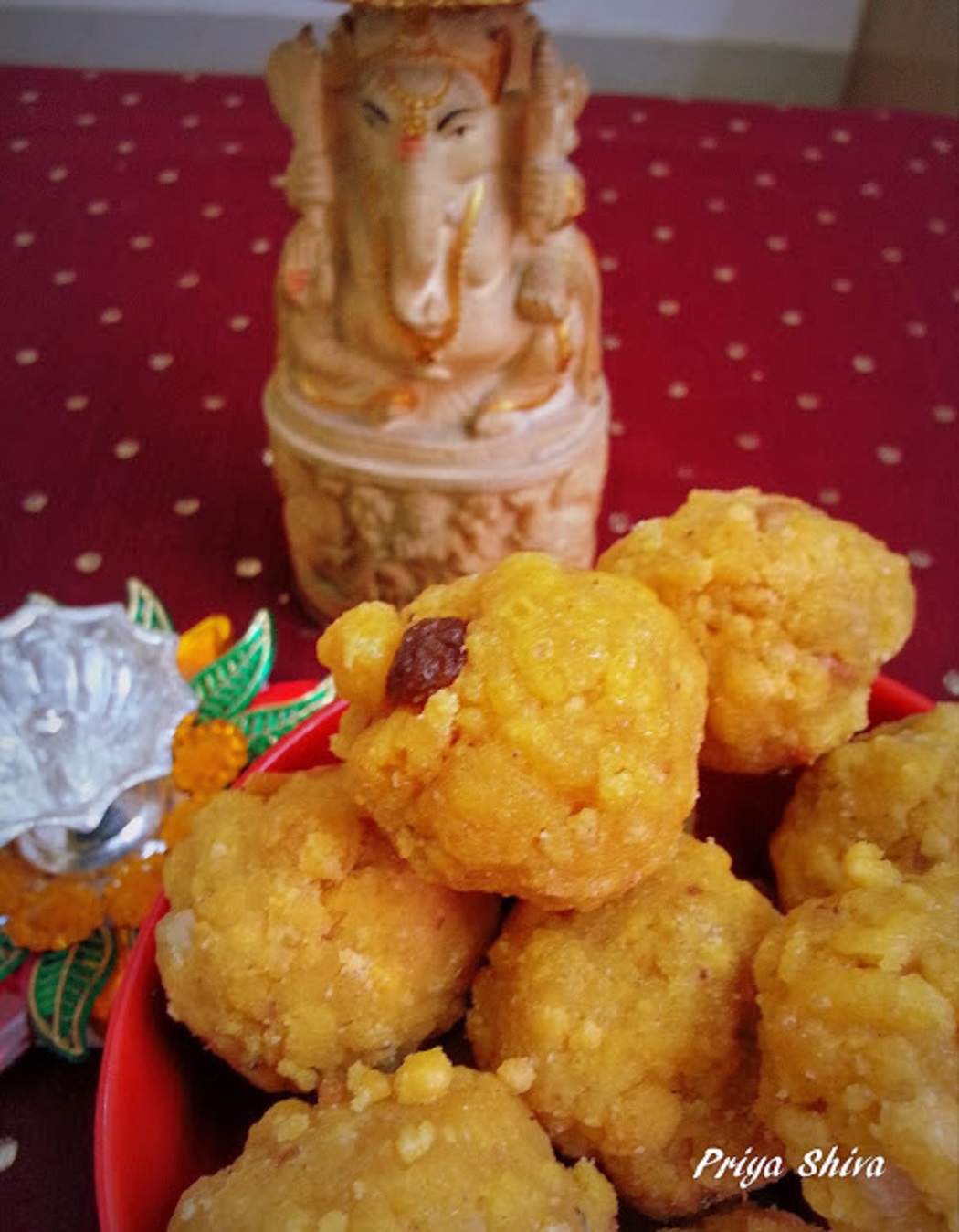 Boondi Ladoo / Kunja Laddu
Author:
Prep time:
Cook time:
Total time:
Ingredients
Besan/ bengal gram flour – 1 & 1/2 cups
Sugar – 2 & 1/2 cups
Green Cardamom – 3 (powdered)
Cloves – 6
Edible camphor – 11/8 tsp
Yellow food color – 1/8 tsp
Cashews – 12 (broken)
Raisins – 12
Sugar candy/kalkandu – 1 tbsp
Ghee for deep frying – 1+1/2 cup
Instructions
In a pan boil sugar with 1 cup of water and food color. Mix it well and when it starts boiling and sugar has completely dissolved, remove from the gas stove.
Sieve gram flour and add a pinch of food color and mix it with water in a bowl. Make a smooth flowing batter and keep it aside. Heat some ghee in a frying pan and keep it ready to fry the boondis.
You'll need a ladle with holes to make boondis. Take a ladle full of batter and pour over through the ladle with holes keeping it just above the oil.
Fry the boondis till they turn golden colour. Strain the excess ghee and directly dip it in the sugar syrup. Follow the same procedure for the remaining batter.
Fry cashews and raisins and add it with boondis.
Now add cloves, camphor and cardamom powder and mix it well.
When the boondis are warm itself, make medium size balls of it.
Yum