Breakfast is the most important meal of the day. So, why not start the day on a healthy note. Make these Varagu Arisi Parappu Adai for breakfast which is healthy and nutritious too! These are savory crepes made with millet rice and lentils.
I usually prefer having some
neer moru
( spiced buttermilk ) after having these Varagu Arisi Parappu Adai. Serve it hot with Jaggery and
mint coconut chutney
.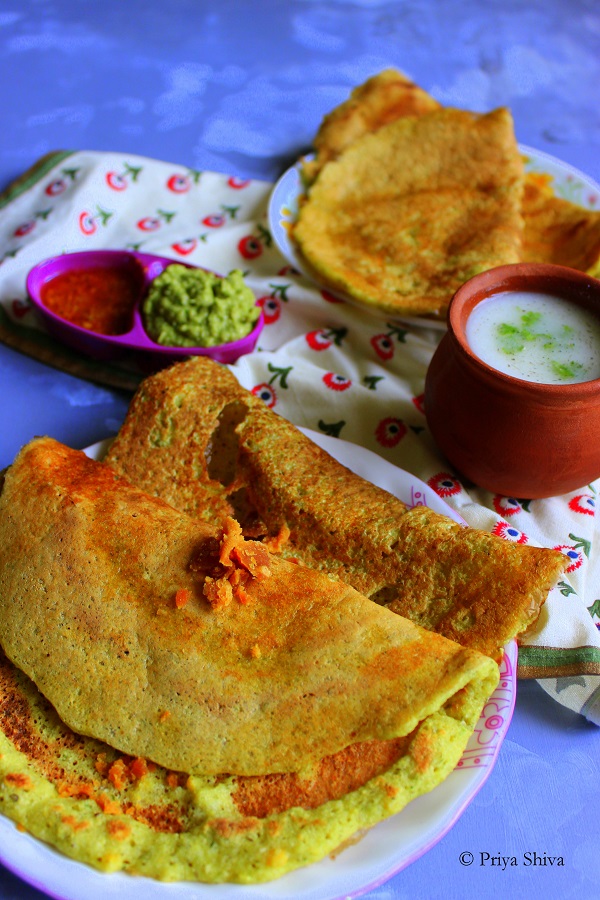 Varagu Arisi Parappu Adai
Author:
Prep time:
Cook time:
Total time:
Ingredients
Varagu Arisi/Kodo Millet – 1 cup
Green gram/Whole moong dal- 1/2 cup
Chana dal/ split chickpeas – 1/2 cup
Curry leaves – 1/4 cup
Asafoetida – 1/2 tsp
Red chillies – 4-5
Salt to taste
Cooking Oil/Gingelly/Sesame Oil – 5-6 tbsp
Instructions
Clean and soak Kodo Millet, green gram , chana dal in some water for 4 hours.
Now grind soaked millet and lentils to make a coarse batter. Add curry leaves and red chillies while grinding.
Transfer the batter in a bowl and add salt to taste and asafoetida and mix. Add more water if you feel the batter is too thick. Close the container and set it aside for an hour.
Heat a griddle/tawa and grease it with oil.
Scoop a ladle full of the batter and pour in center of the gridde. Spread it immediately to a circular shape. Pour few drops of oil along the sides of the adai. Turn over once it reaches golden colour. Remove the adai when it is golden on both sides.
Serve it hot with some jaggery and chutney.
Yum