Mysore Pak for a very special occasion. 
I still have many more milestones to cross and this is just the beginning but this definitely calls for a celebration. So, I thought of making a royal sweet – Mysore Pak which was first made in Mysore palace for the King. Mysore Pak is a sweet made with loads of ghee, sugar and Bengal gram flour. This sweet needs precise consistency and after toiling for an hour in the kitchen I got the perfect Mysore Pak which just melts in your mouth….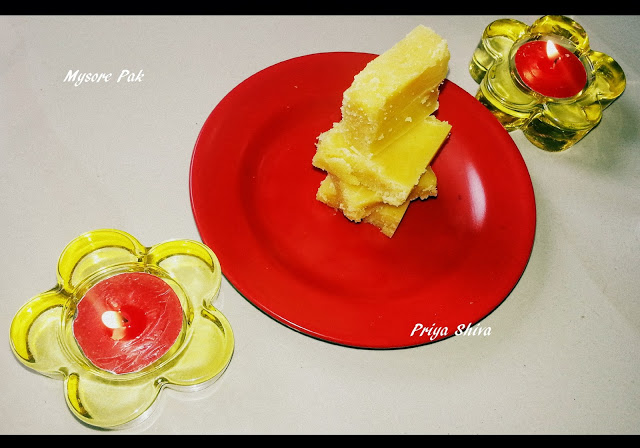 Ingredients:
Besan/Bengal Gram Flour – 1 cup
Sugar – 2 cups
Water – 1/2 cup
Melted Ghee/Clarified Butter – 2 cups
Method:
1)Sieve gram flour and keep it aside.
2) Apply ghee on a square plate and keep it aside.
3) Melt 2 cups of ghee and keep it aside.
4) Add water and sugar in a heavy bottom non-stick pan and mix well. Boil it till it comes to a 1-string consistency. (check tips below)
5) Bring the flame to medium, slowly add gram flour and keep stirring. You have to make sure that no lumps are there.
6) When gram flour has completely dissolved in the sugar syrup, slowly start adding ghee and keep stirring.
7) After few minutes you will see ghee completely dissolves in the mix and holes forming in it just like on a bread and ghee will start leaving on the edges. Immediately transfer the content into the greased plate and slowly pat it with the ladle to flatten it.
8) Leave it for 10 minutes and when its still warm cut it with a knife into square pieces. Remove the pieces from the plate only when it has completely cooled down and store it in a airtight container.
Tips:
1) Keep 2 tbsp melted ghee separately as sometimes the mix might need more ghee depending on the freshness of the gram flour.
The colour of the sweet also depends on the freshness of the gram flour.
2) Be very quick in transferring the content to greased plate when holes start forming. Even few seconds of delay can make the whole sweet to crumble.
3) To check one string consistency, take a drop of the the water and sugar mixture and try making a string between your index finger and thumb.
Thank you all for the support and Happy Diwali!!!!!!!!!!!!!!!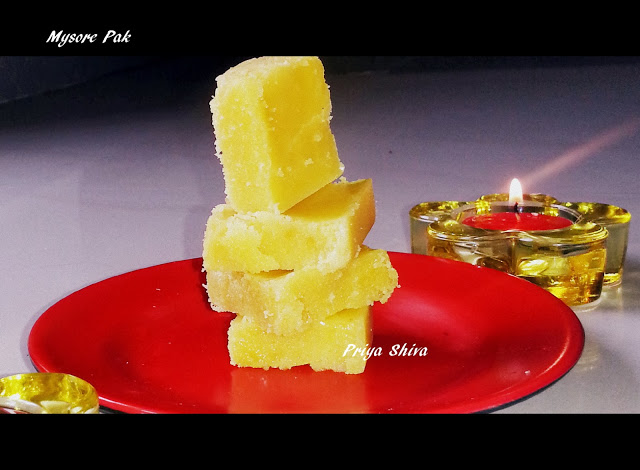 Yum