Vazhakkai Podimas is a popular dish from South India made with raw bananas. This is a recipe from my sister, Veena who makes it by grilling the raw bananas and adding some freshly grounded masalas.
Ingredients:
Raw banana – 5
Chana Dal/Bengal Gram – 1 cup
Urad dal/Split Black Gram – 1 tbsp
Grated coconut – 1 cup
Red chillies – 3
Asafoetida
Turmeric Powder – 1/4 tsp
Mustard seeds – 1 tsp
Salt to taste
Cooking Oil
Method:
1) Grill the raw bananas on gas stove or microwave for few minutes. Remove the outer layer and scrape it in a bowl and keep it aside.
2) Roast chana dal, urad dal and red chillies in a frying pan till lentils turn golden brown. Grind it to make a coarse powder and keep it aside.
3) Add grated coconut in a frying pan and roast for 1 minute and keep it aside.
4) Take a frying pan and add 1 tbsp oil cooking oil. When oil is warm add msutard seeds and a pinch of asafoetida. When mustard seeds crackle add grated  raw banana and saute for few minutes.
5) Add Turmeric powder and keep stirring. Now add roasted dal coarse powder and mix well and stir for few minutes.
6) Now add grated coconut and salt and mix it well. Transfer it into a bowl and serve it hot with rice.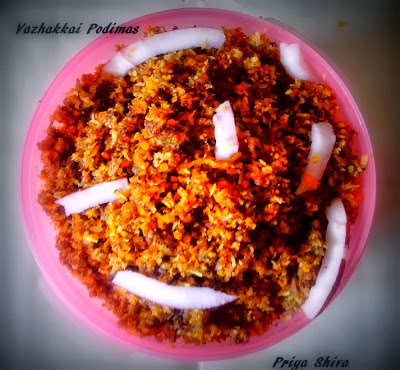 Yum