Dhingri mutter masala is a lovely dish made with mushroom and peas which is cooked in tomato gravy. It is also known as Khumbh Mutter Curry or matar mushroom masala or Peas mushroom curry. I'm not very fond of mushrooms but I love them in a curry. Not all mushrooms are edible and have to be very careful while buying them and need to wash them carefully. This curry can be cooked quickly in an open pan and served with some flat bread. It also goes well with rice.
Ingredients:
Peas – 1/2 cup
Chopped Mushrooms – 1/2 cup
Onion – 1 cup (finely chopped)
Tomatoes – 2 (finely chopped)
Grated ginger – 1 tsp
Garlic cloves – 2 (finely chopped)
Cumin seeds – 1 tsp
Garam masala – 1 tsp
chili powder – 1 tsp
Turmeric Powder – 1/4 tsp
red chili powder – 1 tsp
Salt to taste
Cooking Oil – 1 tbsp
Method:
1) Add onion, tomatoes, ginger and garlic in a blender or wet grinder and blitz it.
2) Add oil in a frying pan and when its warm, add cumin seeds. Saute it for few seconds and then add the onion tomato paste to it.
3) Saute it nicely for few minutes on low flame till oil starts leaving on sides.
4) Add mushroom, peas, 1 cup water, garam masala, chili powder, turmeric powder and mix it well.
5) Close the pan with a lid and give let it simmer for few minutes till vegetables are soft and cooked. Keep stirring in between.
6) Now add salt to taste and mix it well.
Serve it hot with some flat bread or rice.
Tips:
1) Adjust spices and salt according to your taste.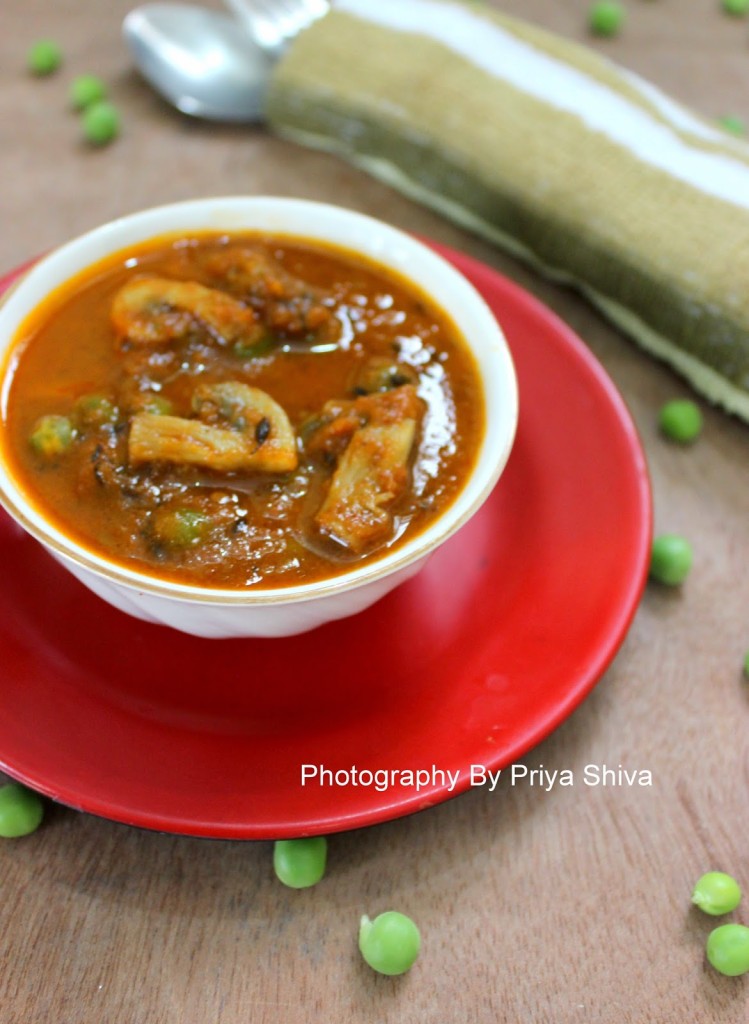 Yum