Gatte ki sabzi is a popular curry where gatte is mainly made from Bengal gram flour in a rich gravy. This curry is mainly popular in Rajasthan, India and served with flat bread. Usually this vegetable is made in curd/yogurt gravy but I've made it in tomato gravy.
Ingredients for Gatte:
Besan/Bengal Gram flour – 1 cup
Carom seeds – 1 tsp
Red chilly Powder – 1 tsp
Pinch of asafoetida
Pinch of turmeric powder
Yogurt/dahi – 1 tsp
salt to taste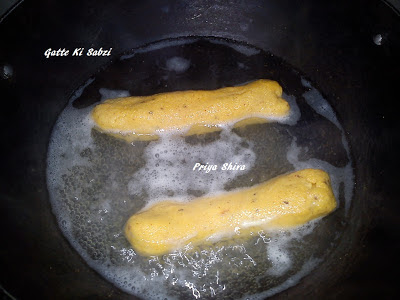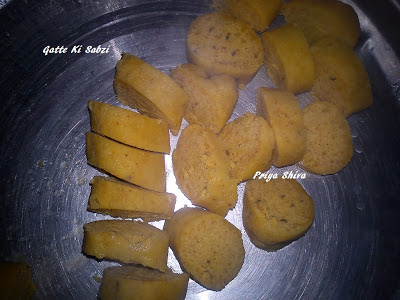 Method:
Add gram flour, yogurt, carom seeds, asafoetida, salt, turmeric powder and red chilly powder in a bowl and mix well. Now slowly add water to it to make a stiff dough. As shown in first picture, make long kebabs out of the dough and boil it in water for 5 minutes on medium flame. Take them out of the water and cut it into small pieces as shown in picture 2.
Ingredients for Curry:
Gatte – 2 cups
Finely chopped tomatoes – 2 cups
Finely chopped onions – 1 cup
grated ginger – 1 tsp
Finely chopped Garlic – 1 tsp
carom seeds – 1 tsp
cumin seeds – 1 tsp
Turmeric powder – 1/4 tsp
garam masala – 1 tsp
Red chilly powder – 1/2 tsp
Cooking oil – 1 tbsp
Salt to taste
coriander leaves for garnishing
Method:
Add some oil in a frying pan and when the oil is warm add cumin seeds, carom seeds, garlic, ginger and onion. When the onions are golden brown add chopped tomatoes to it. Fry it for few minutes till the tomatoes are nicely cooked and mashed. Now add gatte pieces, garam masala, red chilly powder, turmeric powder, salt and mix it well. Add 1/2 cup of water and cook it for few minutes on low flame. Keep stirring in between. Now transfer it into a bowl and garnish it with coriander leaves and serve hot with rice or roti.
Yum