I love veg spring rolls specially if it has paneer or cabbage peas filling. Now, I thought of combining both the fillings in a Dosa and make a complete wholesome dish.
How to make Spring roll Dosa?
Ingredients for the Cheese filling:
Grated Paneer/Cottage Cheese – 100gms
1 onion finely chopped
1 tomato finely chopped
Cumin seeds – 1 tsp
Chat masala – 1tsp
Turmeric powder – 1/4 tsp
Red chilly powder – 1/2 tsp
Salt to taste
Cooking Oil
Coriander leaves
Method:
Take a frying pan and add 1tsp of cooking oil. When the oil is warm add cumin seeds and onion and saute it. When the onions turn golden add tomatoes and saute it for a minute. Now add the grated cheese, turmeric powder, chat masala, red chilly powder, salt and saute it for 2 minutes. Garnish it with coriander leaves.
Ingredients for Spring Roll Dosa:
DOSA BATTER
Cheese filling
Grated cabbage – 1/2 cup
Peas – 1/2 cup
Tomato ketchup
Cooking Oil
1) To know how to prepare Dosa batter just click on Dosa batter listed in ingredients.
2) Take a frying pan and add 1 tsp oil to it. Add the grated cabbage and peas to it and saute it for few minutes. Add some salt and turmeric powder and mix it well. Transfer this mixture in a bowl and keep it aside.
3) Heat a non-stick tawa or griddle. Scoop a ladle of the batter and spread to a circular shape. Pour few drops of oil along the sides of the dosa.
4) Turn over once it reaches golden colour. Remove the dosa when it is golden on both sides.
5) Place the dosa on a plate and add some cheese filling to it. Roll the dosa and cut it into pieces as shown on the above picture. Add cabbage peas for dressing and sprinkle some chat masala and enjoy with some tomato sauce.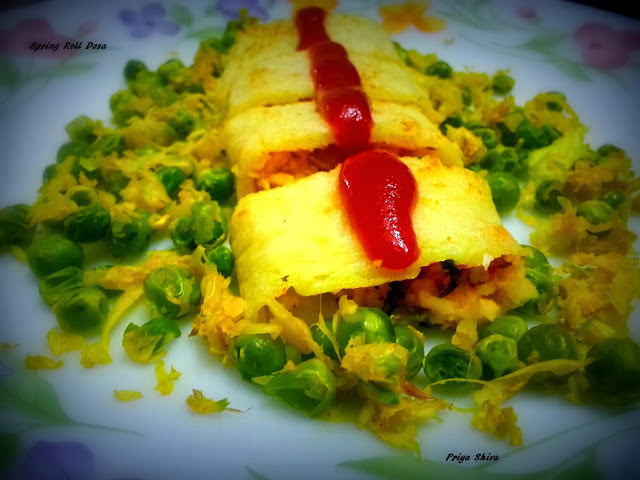 Yum