Okra has lots of health benefits and my grandma used to say that it helps in brain development. Well, I cant vouch on that but definitely it is something good for your taste buds :)) So, Today I tried to add Okra in our usual dosa batter and added onions with it. It was definitely what I would like to have again and adds a nice flavor and crispiness to a simple dosa..
Serves – 4
Ingredients for Okra Onion Dosa:
Raw rice – 1 cup
Boiled rice/idli rice – 1 cup
Golden gram/ split and skinned green gram/moong dhuli – 1/4 cup
Fenugreek seeds – 1 tsp
Medium sized Okra – 12-14
Finely chopped onion – 1/2 cup
Chopped Green chillies – 2 tbsp
Method:1)  Wash and soak the rice and moong dal along with fenugreek seeds in some water in separate bowls for 4-5 hours.
2) Now grind the moong dal with fenugreek seeds in your food processor with enough water to make a smooth batter. Next grind the rice with water.
3) Transfer the content in a pan and add some salt to taste and mix it well. If you feel the batter is too thick add some more water and keep it overnight for fermentation.
4) Add okra and onion in your wet grinder or mixer and grind it to make a paste. Add this paste along with dosa batter in a bowl and mix it well.
5) Heat some oil in a small frying pan and add cumin seeds, mustard seeds and Asafoetida to it. Once mustard crackles, add chopped green chillies and few curry leaves.
6) Add this mixture to the batter along with some salt and mix it well.
7) Heat a non-stick griddle/tawa.
8) Scoop a ladle full of the batter and spread to a circular shape. Pour few drops of oil along the sides of the dosa.
9) Turn over once it reaches golden colour. Remove the dosa when it is golden on both sides.Serve it hot with some sambar/chutney.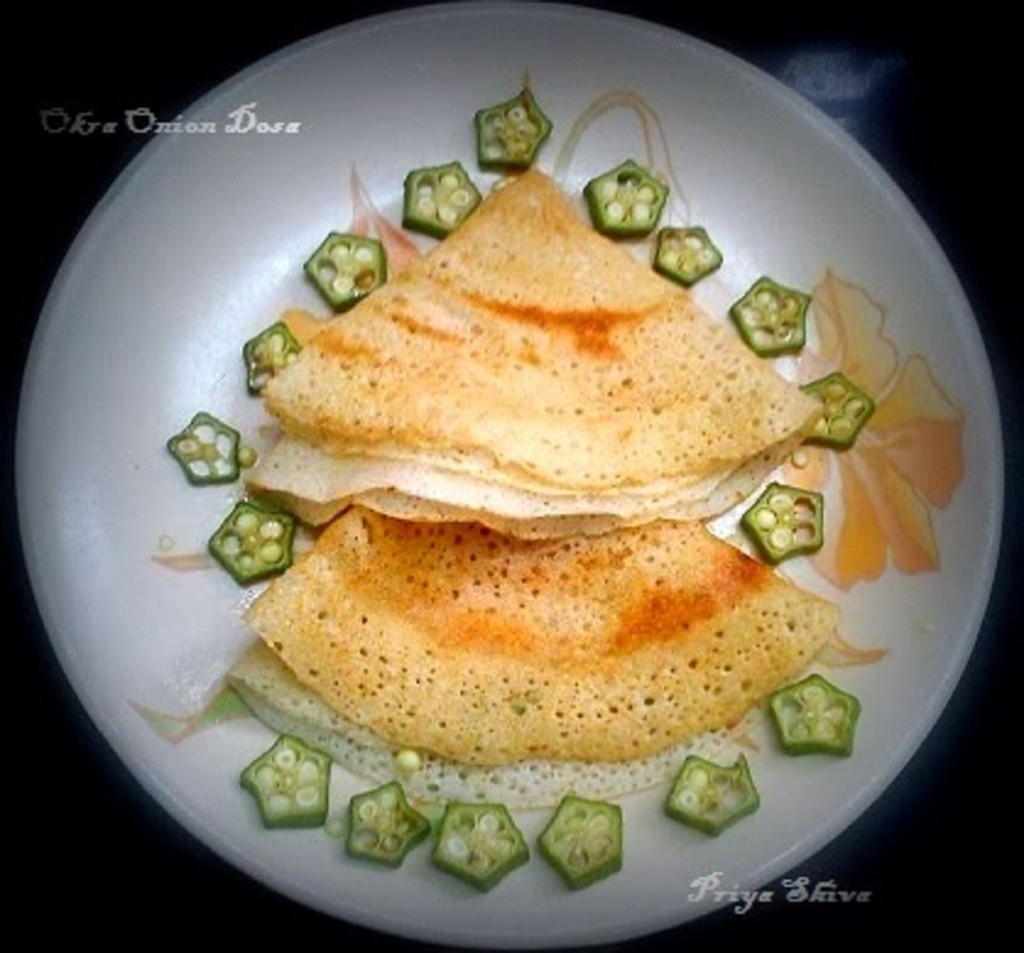 Yum