Nothing like an ice-cream in summer and one of my family favorite is a kulfi served with faluda. This time I tried making faluda with some rice noodles instead of cornflour and it turned out to be more yummy..
Ingredients for Kulfi:
full cream milk – 1 litre
Sugar – 1/4 cup
Few strands of saffron
cardamom powder – 1/2 tsp
Cornflour – 1 tbsp
Method:
1) Dissolve the cornflour in some water and keep it aside. Make sure there are no lumps.
2) Dissolve the saffron in 2 tbsp warm milk and keep it aside for 20 minutes.
3) Pour the milk in a pan and and keep it for boiling. Once the milk starts boiling, add cornflour and sugar and stir continuously.
4) Reduce the flame and simmer and keep stirring till the quantity of milk reduces to half.
5) Cool it and add some cardamom powder, 1 tbsp crushed pistachio and saffron and mix well.
6) Now pour it into kulfi molds or Popsicle tray and let it set in your refrigerator.
7) Check in between and if you you feel that it is icy instead of creamy whip the content once in your blender and fill it back in the molds and keep for setting in your refrigerator.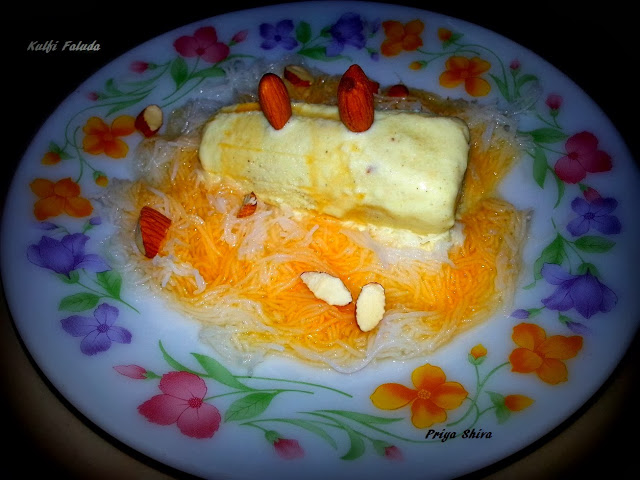 Ingredients for Faluda:
Rice noodles – 1/2 cup
Milk – 1 cup
sugar – 1 tbsp
Few strands of saffron and rose essence and almonds, pistachio for garnishing
Method:
1) Add rice noodles in a pan and add 3 cups of water.
2) After boiling it for few minutes transfer noodles to a colander and let cold water run through it for about few seconds.
3) Drain the water and set aside. Now take a pan and add milk and bring it to a boil. Add sugar to it and mix well. Now add cooked rice noddles to it and bring it to a boil. Let it cool down. Dissolve the saffron in some water.
4) Now take a plate and add some rice noodles to it. Place the kulfi on top of it and pour some rose essence and saffron water. Dress it with some almonds and pistachio.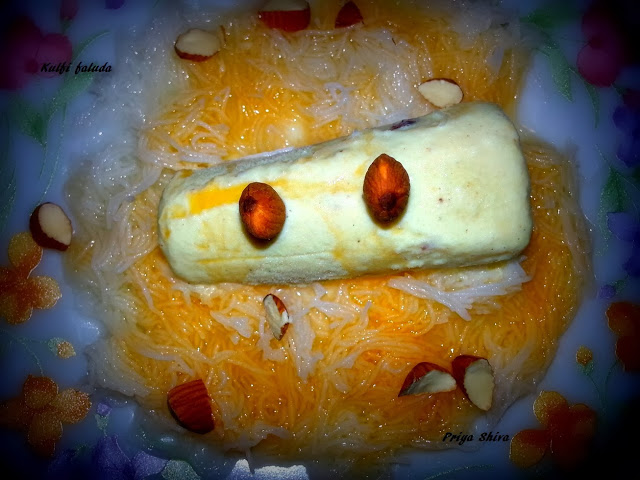 Yum