Turnip is a vegetable which I hardly used in my kitchen until I learnt this curry from my friend. . It's only when I was in college that one of my friend brought this curry in her lunch box and I was just curious about its taste. It gave a nice combination of Sweet and salt and I loved it. So, heres a quickie curry which can be served with rotis.
Ingredients:
Turnip/Shalgam – 3 cups peeled and chopped
Tomato – 1/2 cup (chopped)
Cooking Oil – 1 tbsp
Turmeric/Haldi powder- 1/4 tsp
garam masala – 1/2 tsp
Jaggery – a small piece or 1 tsp Sugar
Cumin Seeds/jeera – 1/2 tsp
Chopped Coriander/Dhania for dressing
Salt to taste
Method:
The easiest way to cook it is in a small cooker.  Heat the oil directly in a 2 ltr pressure cooker and add cumin seeds. When they crackle add chopped tomatoes and and toss it for a minute. Now add 1/4 cup of water and chopped Turnip to it. Add Turmeric powder, garam masala, salt to taste and a small piece of jaggery or sugar. Mix it well and add little chopped coriander leaves. Close the cooker and give 2 whistles and your dish is ready.  Transfer the dish into a bowl and add coriander leaves for dressing.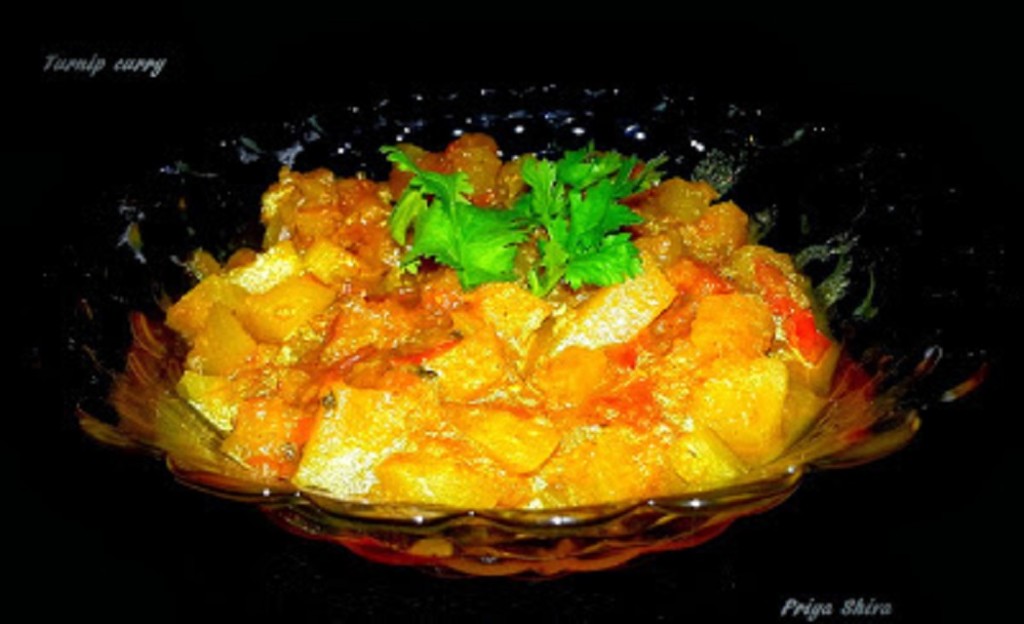 Yum