Making Punjabi Kadhi today for lunch brought back the good old Delhi days. I just love to eat this curry with some steamed rice. The authentic Punjabi kadhi is cooked in mustard oil and is absolutely aromatic and delicious.
Check out the video to make authentic style Punjabi Kadhi Pakora:
I always used to think that it will take a lot of time to make Punjabi kadhi. One has to fry the pakodas and then make a gravy for it but it hardly takes 30 minutes to prepare the whole dish. It is definitely one of my favorite dish for winters. I have used pure and natural Idhayam Hardil kachi ghani mustard oil to make it. The high smoking point makes it ideal for deep frying. It is also ideal to make North Indian style pickles. I'm just waiting to make Aam ka achaar using Idhayam Hardil mustard oil. Click here to check out more about Idhayam products.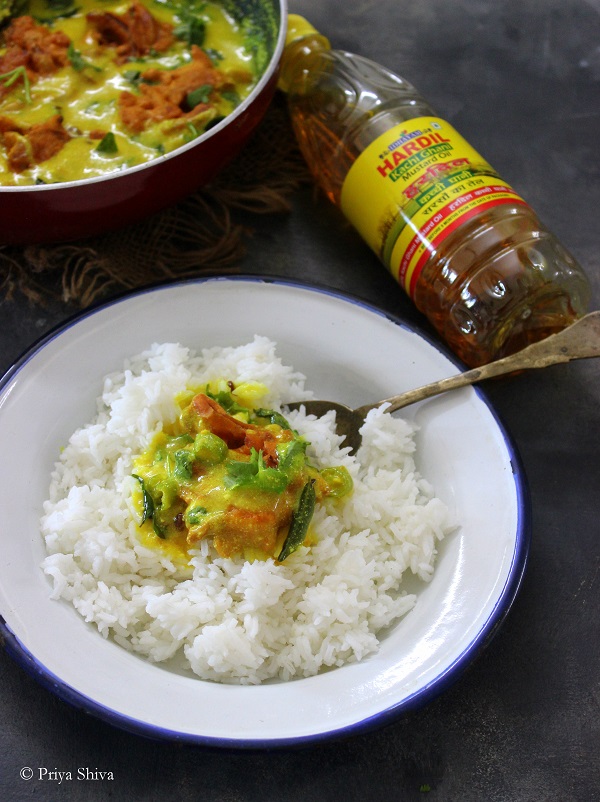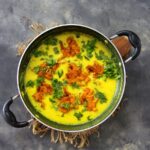 Punjabi Kadhi Recipe
Ingredients
Besan/ Chickpeas flour - 1 cup + 4 tbsp

Dahi/curd - 1/2 cup

2 Onions (sliced)

Red Chili Powder - 1 tsp

Carom seeds/Ajwain - 1/2 tsp

Green chilies - 2

Curry leaves - 1 sprig

Cumin seeds - 1 tsp

Methi Seeds/ Fenugreek seeds - 1/2 tsp

Asafoetida/Hing - 1/8 tsp

Turmeric powder - 1/2 tsp

Grated ginger - 1 tbsp

Garlic - 4 (chopped)

Salt to taste

Idhayam Hardil Mustard oil - 2 tbsp

Idhayam Hardil Mustard oil for deep frying
Instructions
Take a mixing bowl and add sliced onion, carom seeds, 1 cup chickpeas flour, red chili powder, 1/4 tsp turmeric powder and salt in it. Now mix it well with hand. Onions will leave water. So, before adding water, mix well. Now slowly add water and make it into a thick batter. Do not make it runny.

Heat enough oil in a frying pan for deep frying pakoras and when oil is warm, drop a spoonful of mixture and deep fry till they turn golden brown and crisp. Set aside these pakoras in a plate.

Add 4 tbsp besan, curd and 2 glass of water in a bowl and blend it so that no lumps are there in it.

Now take a frying pan and add 2 tbsp of oil to it.

Add methi seeds, cumin seeds, asafoetida to it.

Once cumin seeds crackles, add grated ginger, chopped garlic, chopped green chilies and curry leaves to it and saute on low flame for a minute. Add turmeric powder.

Add curd-besan mix to it. Once it starts boiling, add salt to taste and let it simmer for few minutes. Keep stirring it. Cook on low flame for 5 minutes.

Now add 8-10 fried pakodas and mix it well. Transfer it into a bowl and garnish it with some coriander leaves. It can be enjoyed either with steamed rice or tandoori roti. 
Recipe Notes
The gravy will thicken and pakoras will become soggy once you dip them in the curd gravy. So, I keep the cooked gravy ready and just add the fried pakoras before serving.
Yum