Kanda Poha is a typical breakfast from state of Maharashtra made with flattened rice. Flattened rice is also known as beaten rice. If you ever get a chance to visit Mumbai, you will find this dish in each and every restaurant for breakfast or evening snack.
Marathis love this dish and it is also served as an easy evening snack. Kanda in Marathi simply means onion. This breakfast dish has onions but I love to add other vegetables too. So, sharing the recipe for Kanda Poha today. It is an easy peasy breakfast option and healthy too with all fresh vegetables. It is usually served with farsan like Sev. You can even serve it with some coconut chutney.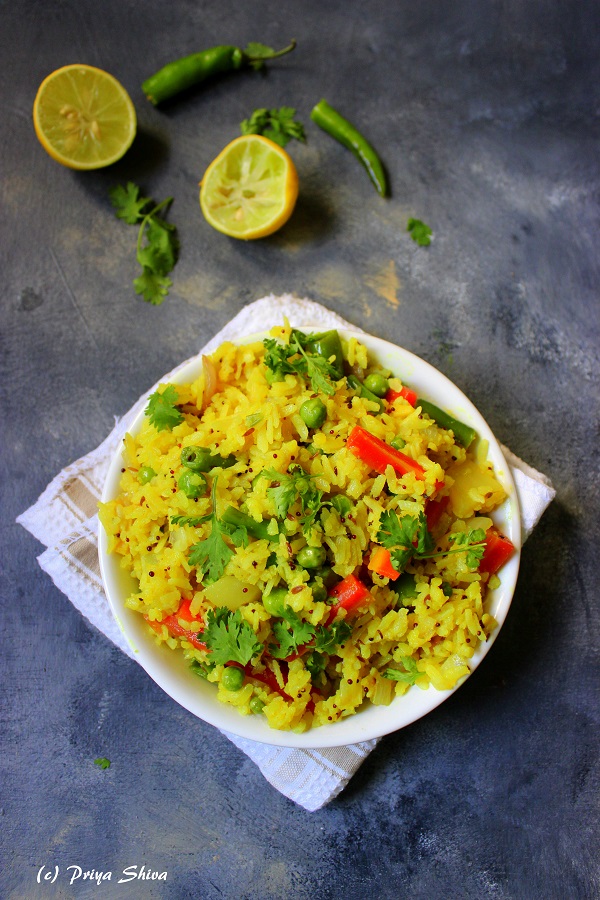 Kanda Poha
Ingredients
2 Onions (finely chopped)
Flattened rice / Poha - 2 cups
Green peas - ½ cup
Carrot - 1 (peeled and chopped)
Potato - 1 (peeled and chopped)
Beans - 4 (chopped)
Green chilies - 2 (finely chopped)
Raw peanuts - 2 tbsp
Cumin seeds - 1 tsp
Mustard seeds - 1 tsp
Asafoetida/hing - ¼ tsp
Curry leaves - 1 sprig
Turmeric powder - ½ tsp
Sugar - 1 tsp
Salt to taste
Lemon - 1
Fresh coriander leaves - 3 tbsp (chopped)
Vegetable Oil - 2 tbsp
Instructions
Add flattened rice in a colander and run it under water for a minute to moisten it properly. Keep it aside to drain the water. Alternatively, you can soak it in water for 5 minutes.
Heat oil in a frying pan and add cumin seeds and mustard seeds.
When the seeds splutter, add peanuts and saute on medium heat till they are dark brown.
Now add asafoetida and onions and sauté till onions turn light brown.
Add turmeric powder, curry leaves and green chillies and saute for few seconds.
Add green peas, carrots, beans and ¼ cup water and saute for few minutes till vegetables are cooked and soft.
Add poha, salt and sugar and mix well.
Remove from the stove. Juice lemon and add it in tha pan and mix.
Garnish with coriander leaves and serve it hot.
Yum