Drumstick Red Lentil soup with the goodness of drumstick and lentil is a recipe passed to me by my mother-in-law. Thank you for the lovely contribution to my blog Geetha Amma. Drumsticks have many health benefits and adds deliciousness to any dish. Drumstick is more popularly known as murungakkai in South India. We even cook with the leaves of drumstick tree. We usually make
sambar
 with drumsticks or add it in avial. This recipe is a nice way to use drumsticks. So, sharing the recipe for some comforting drumstick red lentil soup and hope you enjoy it with your family..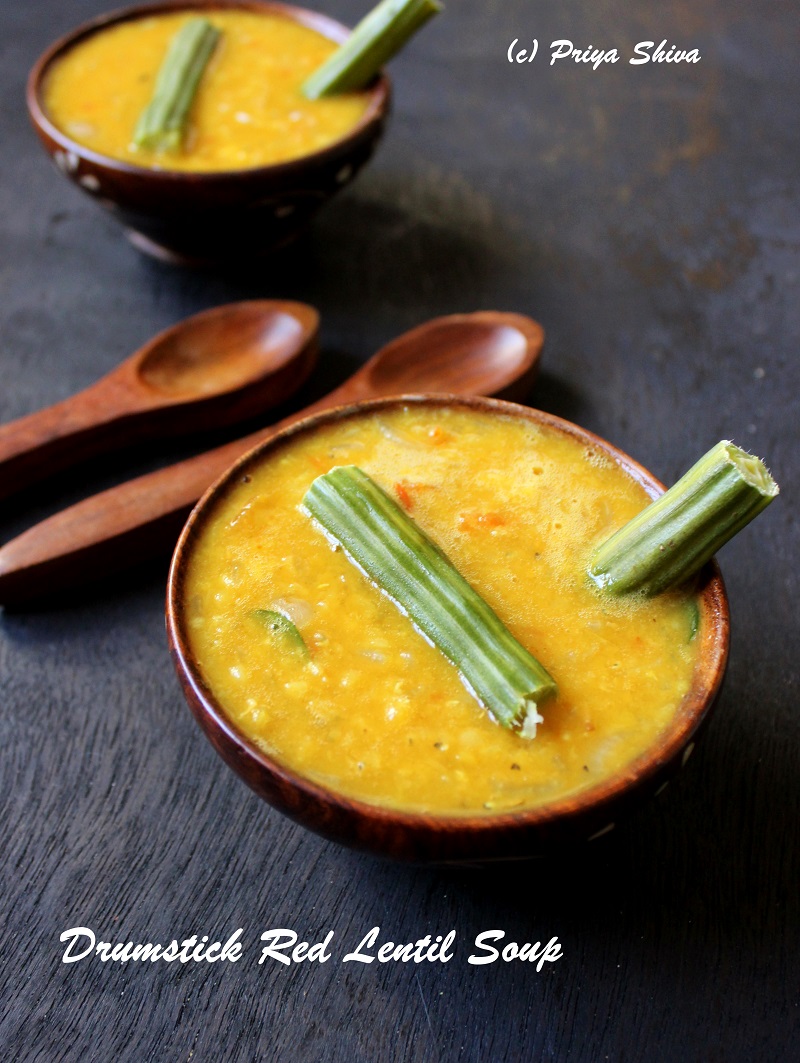 Drumstick Red Lentil Soup
Enjoy some comforting red lentil soup with drumsticks, coconut and mild spices!
Ingredients
Masoor Dal/Red lentil - ½ cup
4 Drumsticks
1 Tomatoes
1 onion
2 garlic cloves
2 Green chilies
Grated Coconut - ¼ cup
Cinnamon - ½ inch piece
Vegetable oil - 1 tbsp
Pepper corn - 1 tbsp
Turmeric Powder - ¼ tsp
Salt to taste
Instructions
Soak the lentil for 30 minutes.
Crush the pepper corns and cinnamon.
Peel the onions and finely chop it. Peel the garlic and finely chop it. Chop the tomatoes into small pieces.
Grind green chillies,coconut, pepper corn and cinnamon into a nice paste.
Chop drumsticks into finger size. Cook drumsticks till they are soft and remove the pods and keep it aside. You can keep some boiled drumsticks to add in the end.
Add oil in pressure cooker and when its warm add chopped onions and tomatoes and saute for few minutes and add 2 cups of water.
When the water starts boiling add lentil, drumstick pods and turmeric powder. Pressure cook it for 2-3 whistles.
When the pressure comes down, add grounded coconut paste, salt to taste and blend it well with a hand blender. You can add more water if you feel its too thick.
Enjoy it hot with some bread sticks.
Yum